Mission & Vision Statements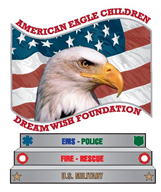 American Eagle Children Dreamwish Foundation, Incorporated
" A National Certified 501(C)3 and 509 Nonprofit Organization "
State of Florida - 2702290
CH - 44431
---
Our Mission Statement
To work with the spouse, family and child (ren) of a fallen or injured American hero in fulfilling a wish.
We will respond to the cries of a child and family in need.
---
Our Vision Statement
The children are the legacy of our heroes and leaders of tomorrow. We need to protect and honor the commitment a parent made to their family and one they made in protecting our Freedom. We are truly a nonprofit organization, who is listening to the needs of our children; we feel it is our duty to continue the vison of a fallen hero.
Dreamwish Seven Team: email address - founder@aecdf.org.